Welcome to Hacienda Corona Bed & Breakfast
Come join us at Hacienda Corona Bed and Breakfast and Casitas, a perfectly private, peaceful and romantic inn perched atop 36 acres of the historic Guevavi Ranch along the banks of the Santa Cruz River between the towns of Tubac and Patagonia.
---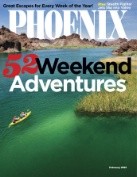 The Hacienda Corona is Ranked Number #1 in Phoenix Magazone's list of 52 Great Weekend Getaways.
"...this romantic ranch perched atop 36 acres overlooking the Santa Cruz Riverbed offers a plush, private hacienda retreat. Murals of indigenous Mexican peasants painted by famed bullfighter-turned-artist Salvador Corona line the courtyard walls."
A Bit About Us
The history of this Santa Cruz County gem near the Arizona/Mexico border town of Nogales is unique. While the old barn and rusty silo remind us of its rich ranching heritage, the Hacienda itself is elegant and quite refined. Its interior courtyard walls feature the priceless murals of the famous Mexican muralist and bullfighter Salvador Corona, painted in 1942 and 1955. Its sparkling 1950's swimming pool is covered in beautiful blue mosaic tile. It's no wonder that John Wayne and other Hollywood luminaries were attracted to this cool, high desert location where they could hide from the world, rest, relax and have a little fun.
Today you can still just kick back and relax, read a book in any one of several inviting patios or take a dip in the pool. If birding is your passion you can hike around the property and catch a glimpse of the many interesting species that live right here. It has been said that our area is among one of the world's best places for stargazing.
At night the stars will dazzle you as you warm your toes around the fire pit. And, if the itch to explore is irresistible, you can "Cruz" the County and find so many diversions just minutes away that it will take days, if not weeks, to enjoy all that the river valley has to offer.
Our guests Frederica and Rob from Rowland, PA said, "Fascinating, historical, beautiful." Why not come for a visit and see what you have to say."
Learn More
Sign Up Today
Subscribe to our newsletter and be the first to learn about our seasonal promotions and special deals.
By clicking "Sign Up" I agree to the Terms of Service.
TripAdvisor Reviews
We strive to provide an exceptional level of service for every guest, and are proud to have a 4.5-star rating on TripAdvisor.
View Reviews