Featured Articles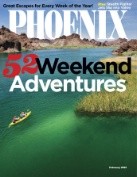 The Hacienda Corona is Ranked Number #1 in Phoenix Magazone's list of 52 Great Weekend Getaways.
"...this romantic ranch perched atop 36 acres overlooking the Santa Cruz Riverbed offers a plush, private hacienda retreat. Murals of indigenous Mexican peasants painted by famed bullfighter-turned-artist Salvador Corona line the courtyard walls."
---

AN EXCERPT FROMT tHE ARTICLE "SOUTHERN HOSPITALITY" ON PAGE 10 OF THE NOVEMBER, 2012 ISSUE:
"At 5:30 p.m. Stover and her daughter, Nisa, invite guests to share a glass of wine and an appetizer, offering up fascinating stories about the area's rich history, as well as suggestions for supper in nearby Tubac, Tumacacori, Nogales or Patagonia.The place is so homey, the women so warm and welcoming, you'll feel as if you're visiting old friends...""